In the furthest away trip of the season, City Union started their West Coast tour on Sunday night against fifth-place Albion San Diego, which will be followed up Wednesday with a jaunt down the road to LA Force. Tonight's match was as Salt City, whilst Wednesday will be as Flower City. It was a long travel day for them to get here on Saturday, with flights to the West Coast, followed by their rental car agency not having their vans, then a drive of over 100 miles to get to the hotel. While their late arrival at the hotel is certainly not ideal, they came prepared and it would be inexcusable to use as a reason they didn't get the outcome they wanted. A relaxing morning at the hotel was followed by a light workout, then a long drive to the match, and they were ready to play. Conversing with players and coaches before the match, they all groaned about their travel day, but everyone was alert and ready for action, and no one was referencing it as a hindrance.
Albion San Diego's stadium is at an incredibly large high school. It's a beautiful multipurpose field, nestled in a canyon, surrounded by countless banners and pop-up boards. They may have small crowds, but they make the most out of their rented home. Their supporter's group, Albion 1904, was only two people with drums and a couple of little kids with flags, but they did their best to give this night atmosphere. It's disappointing they advertised a tailgate party for 3 hours before kickoff, followed by a chili cook-off contest with prizes 90 minutes before the game… only to have precisely zero people show up (see our story about that elsewhere on this site). It was a beautiful Father's Day evening for soccer, so I hoped that being the only fan from either team who cared enough to show up early, Salt City Union would be the ones to take all 3 points.
Maybe it's the fact that he scored last weekend, or maybe it's the fact that he's now sporting bright pink hair, but in the opening minutes, Luke Ferreira stood out to me. Albion kept passing the ball back to their keeper, while Ferreira, Logan Lee, and Stephen Elias constantly pressured the keeper to quickly play it. Their first real chance though, came on a free kick taken by Ferreira on the 18-yard box line. Much like his free kick goal the prior match, he perfectly curved it around the wall to the top corner, unfortunately, the keeper was where he had to be to punch it away.
Halfway through the opening half saw a worrying moment, not because of an Albion attempt at goal, but because Kyle Nelson was slammed in the Salt City box, and was down grabbing his head. The ref immediately called for a trainer to run onto the field. Thankfully, he shook it off and returned to play.
While Albion hadn't had much of an attack, and Salt City's defense was strong, the draw was broken in the 34th minute. An Albion attacker took the ball down the right side, perfectly defended by Noah Cavanaugh to cut off the angle, and the shot was put right on Michael Mejia. Unfortunately, the rebound went just slightly too far from him, and Aleksander Gluvacevic in his Albion debut, was in the right place to pop it in goal.
Right before stoppage time, Ferreira yet again tried to recreate his goal from last week, this time from 30 yards out. As with his prior attempt, he perfectly curled it around the wall, this time far enough to go to the left corner, but the keeper moved fast enough to grab it. Salt City entered the half down by one. While they may have given up a goal, it didn't break their spirit, it seemed to strengthen them in those closing minutes. If any goals were going to come in the second half, they were going to come from what they'd done best: a hard-won challenge, and a play that included nearly every player on the pitch. But that is not what the night had in store for Salt City Union.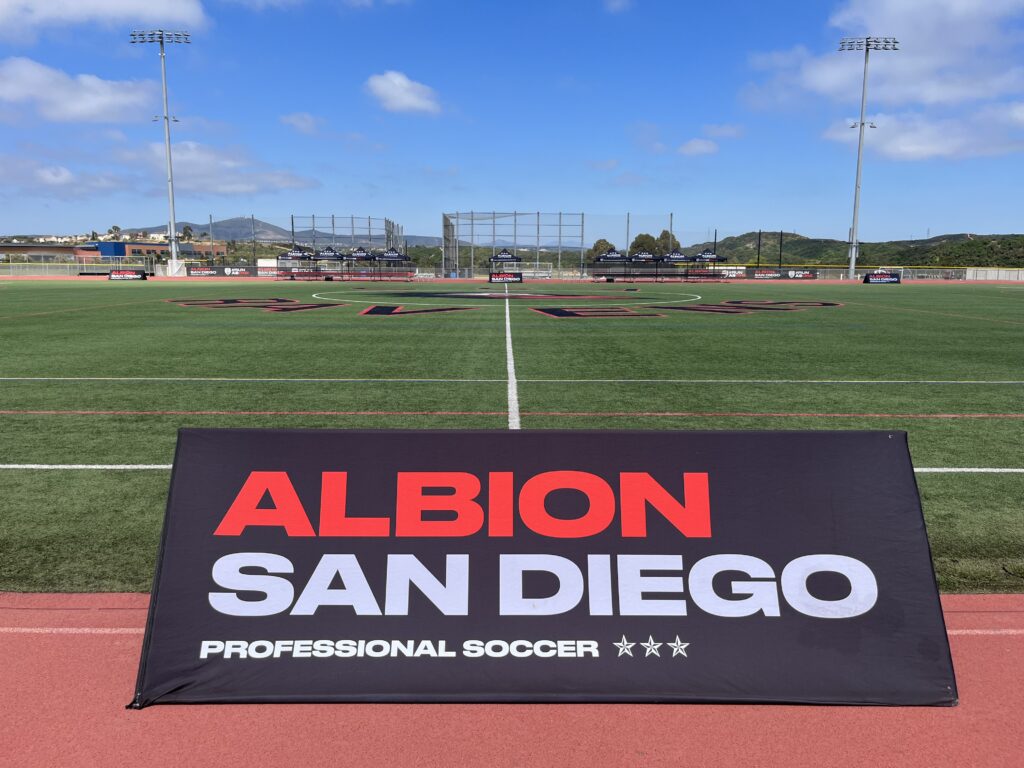 Whereas the first goal I can explain away as a rebound going to the attacker in the right position, in the 53rd minute I cannot lay the blame on anyone but goalkeeper Mejia. The ball was passed back to him, and the Albion attacker kept running towards him. He took too long with the ball, flubbed a clearance, giving it right to Gluvacevic for his second goal of the night.
I've previously been critical of attacker Alioune Diakhate, as last season he was the second leading scorer in the league, and this season has yet to find the back of the net in league play. Coming off the bench at the hour mark, he seemed to have something to prove against his former team after not having a starting position. It didn't change anything about the result, but he worked his ass off. He's previously been stopped from even taking shots at goal and this match he put one just wide of the net and another right on the keeper. That second shot may not have mattered, as it was dubiously called offsides. Oscar Sanchez also came off the bench and tried his best to turn the tide. That's not to take anything away from the players on the pitch for the full 90 minutes, or the ones who made way for these two: no one gave up and quit, they just weren't good enough on the night.
I know that's a long second half without much commentary on the actual match, but in yet another scoreless match, I've gotta find the positives where I can. Also, I'm not a professional so if I don't want to do a play-by-play of an entire half, Stu [the site admin] and Mike [Dictator For Life] can't make me. Kevin supports anything I do anyways.
It was yet again not the result that they wanted, but 2-0 is a harsh scoreline. Neither goal was really a strong attempt by Albion, so it reads like Salt City played worse than they did. They didn't play poorly, it's just the lack of offense and any sustained pressure which keeps coming back to haunt them this season. After the free-kick goal by Luke Ferreira last week, it seemed like maybe that would be how they'd get on the board. However, with multiple great free-kick opportunities, it again came to nothing. I know I keep going back to Ferreira when Matt Bolduc also scored last week, but SCU had more attempts on goal from free kicks tonight than from open play, so its more relevant.
Back to the drawing board before Wednesday's match at LA Force? I'm not a tactician. If you've read this far you know I describe what I see, and don't analyze too deeply. I continue to very rarely have critiques of Jordan Sullivan's coaching. The season so far I see as this: a few games where City Union played great defensively and gave up one goal to lose. Good enough tactics to stay in the game, but not enough to win it. Then a game to LA Force that they were outplayed and the loss was deserved. That led to a change in formation that worked for their first win. Sunday's loss, they stuck with what had worked, it just wasn't enough, so he tried to change it up towards the end, but it was too late. While a lot of times you can lay blame for losses directly on the coach, and I'm sure he probably does that to himself at times, I feel like this season is not due to poor management or decisions. If you take one bounce per game, or one missed call or one tackle, and it goes City Union's way, these results would be much different. I truly believe the luck will change because their record does not accurately reflect what this team can do. They just need things to start going their way, and I fully believe eventually they will. Hopefully, they come back to the East Coast with 3 points.