Feature image source – Flower City Union Twitter
Two matches down for Flower City Union. Many to go. Given how last season went for the team, better days ahead are certainly not a given. But after a 1-0 loss away to Maryland Bobcats FC and a 3-1 US Open Cup victory at home vs Manhattan SC, it seems hope is warranted.
And the bearers of this hope are none other than the players that comprise this new look squad. So, let us move on to introductions, shall we? We'll roll out the cast of characters by position in Head Coach Jordan Sullivan's formation (as best we could tell) starting with what we saw from them in the first match and following with anything new we learned in the second. Now formations are a funny thing. One can look a whole lot like another depending on where you're sitting, if you squint your eyes, and when you happen to look. A 4-2-3-1 can look a lot like a 4-4-2 if you have an attacking center mid who likes to play up close to the striker. A 4-4-2 can look like a 4-1-4-1 if you have a forward who regularly falls into the midfield line and one center mid who primarily patrols in front of the back four. And a 4-1-4-1 can look like a 4-3-3 when the wide midfielders push up high. Indeed, these things are fluid and coach might disagree, but to our eyes, 4-1-4-1 feels like the best description of what we saw through the majority of the first two contests.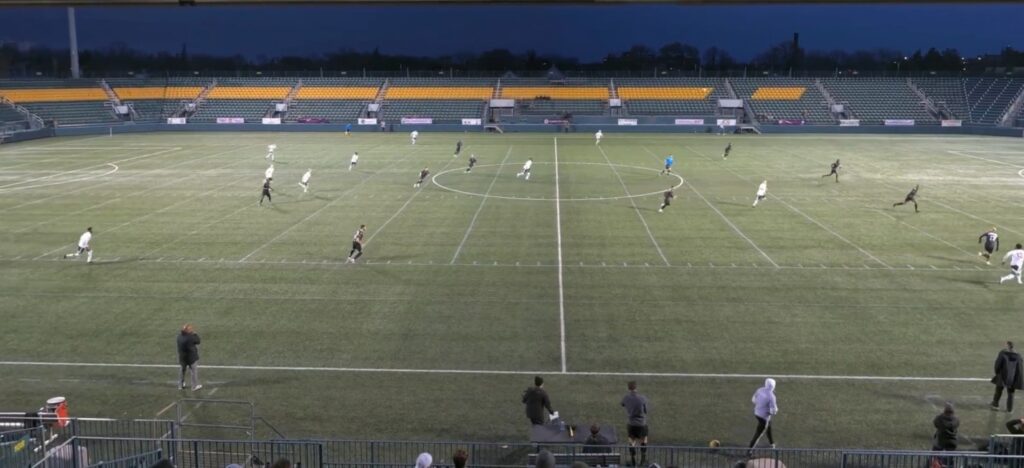 Goalkeeper
Match 1: Starting in goal for the first run out was Michael Mejia. He made a few saves in a solid performance, most notably showing safe hands in stopping a huge chance from Bobcats starman Darwin Espinal midway through the first half. A hard shot from a free Espinal could have been better placed, but Mejia stood tall and thwarted the danger. Little blame can be placed on Mejia for the lone goal of the match as good movement from the Bobcats eventually left the goal scorer Possian in clear on goal for a simple finish.
Match 2: It was Mejia again in goal against Manhattan. Despite the lesser competition, he was called into action more frequently in this match and had the opportunity to impress with a few fine saves. He again can hardly be faulted for the lone goal against as his defense failed to handle a cross into the box which led to a straightforward finish from Manhattan attacker Karamoko. We also got the chance to see Mejia show confidence with the ball at his feet in this match as he did nice job of keeping possession under pressure.
Defense
Match 1:  Across the back four from left to right were the returning Noah Cavanaugh, 2022 NISA champion Kyle Nelson, captain Mumbi Kwesele, and Malik Shaheed.  This was a traditional back four that saw the outside backs picking their spots to get forward.  A pinpoint longball from Shaheed set up FCU's first big opportunity of the day and Cavanaugh particularly started overlapping down the wing as the second half wore on and FCU pushed for the tying goal.  A defense that largely stood strong did have some shaky moments, though.  One of those came between Shaheed and Kwesele on the right side of the defense as Shaheed over pursued leading to Espinal being left open to test Mejia and another, the goal, came between Cavanaugh and Nelson on the left. 
Match 2: The same back four started again in the Open Cup. Notable in this match was a bit more freedom for the center backs with Kwesele especially finding his way forward on several occasions. It is hard to say who was culpable on the Manhattan goal (due principally to the match replay streaming at, we'll say, something less than 4k quality), but we can certainly say Flower City did not have the numbers in the box to deal with the knock-down following a dangerous cross.
Midfield
Match 1: Working between the defense and midfield lines was Josue Cartagena. He had the responsibilities of a classic defensive midfielder, a number 6, working to break up attacks and shield the back four on the defensive end and transition play forward offensively with efficient passing. He picked his spots well as he mostly played safe and patrolled his area but also picked out a few sharp forward passes, triggering FCU's second big chance of the match with a nice ball over the top.
The four in front of Cartagena were Michael Cunningham, Luke Ferreira, Stephen Elias, and Frederick Opoku. Here is where things get a bit subjective in terms of formation. Cunningham and Opoku, though, were clearly playing wide attacking roles on the left and right respectively. Cunningham found his way to the byline on several occasions but wasn't quite able to pick out the pass to make the difference on the night. He combined well with Cavanaugh on the left wing late in the match to put pressure on the Maryland defense. Opoku showed flashes of danger on the right and was a willing runner all day, threatening behind the backline whenever the opportunity presented itself and did especially well to take down a long ball from Cartagena and fend off a defender on his back for a shot at goal. With the team struggling to possess the ball through the midfield, both Cunningham and Opoku were important outlets as the team frequently looked to advance the ball by playing to them over the top of the defense.
Elias was hard at work all day in the engine room; a role that could be well described as a number 8 or box-to-box midfielder. He helped mop up at times, tackling hard alongside Cartagena, but popped up in advanced positions as well, making runs to support the attack. Ferreira, the last in this set of four, seemed to take up different positions in different stages of the match. Early on, he set up mostly in a more advanced position, appearing like a second striker. It was while pressing up into this space early in the match that he found himself in on goal, taking down a lovely ball from Shaheed, but his attempt to chip the onrushing keeper was lifted over the bar. As the match wore on, though, he sagged a bit deeper into the hole behind the striker looking for touches.
Match 2: Cartagena again played as the primary defensive midfielder in front of the defense but ventured a bit further around the pitch this time out. With less pressure for much of the match from this opponent and more sustained possession by FCU, he was able to get forward more, managing two quality shots from distance and was always looking to get on the ball in the buildup. He also covered smartly for his defenders, allowing any of the back four freedom to roam as he would slot in behind to provide backup.
The only change in the starting lineup against Manhattan was Oscar Sanchez coming in for Michael Cunningham. This pushed Ferreira out to the left wing with Opoku again taking up his position on the right. Ferreira took advantage of having more space and more time on the ball in this match, using his skill to beat defenders and create space to set up his teammates. Having shifted his position a few times across these first two matches, where he sets up will be particularly interesting to watch as the season progresses. Opoku, playing against a more conservative defense with space in behind difficult to find directly, contributed more in possession this match. He was involved in a few dangerous combination plays around the box and managed two shots himself.
Sanchez and Elias (again in his case) were truly all over the field featuring as co-number 8s and playing with the freedom to find space in the attack and track back on defense as each situation required.  On the attacking end, Elias tended to find himself combing more with Ferreira and Cavanaugh on the left and Sanchez combined more with Opoku and Shaheed on the right.  Stephen Elias was the star on this occasion, scoring two goals.  His first was a beautiful looping volley from just outside the box and his second the result of excellent positioning as he instinctively raced to the back post just in time for an Opoku shot to deflect to him for a simple finish.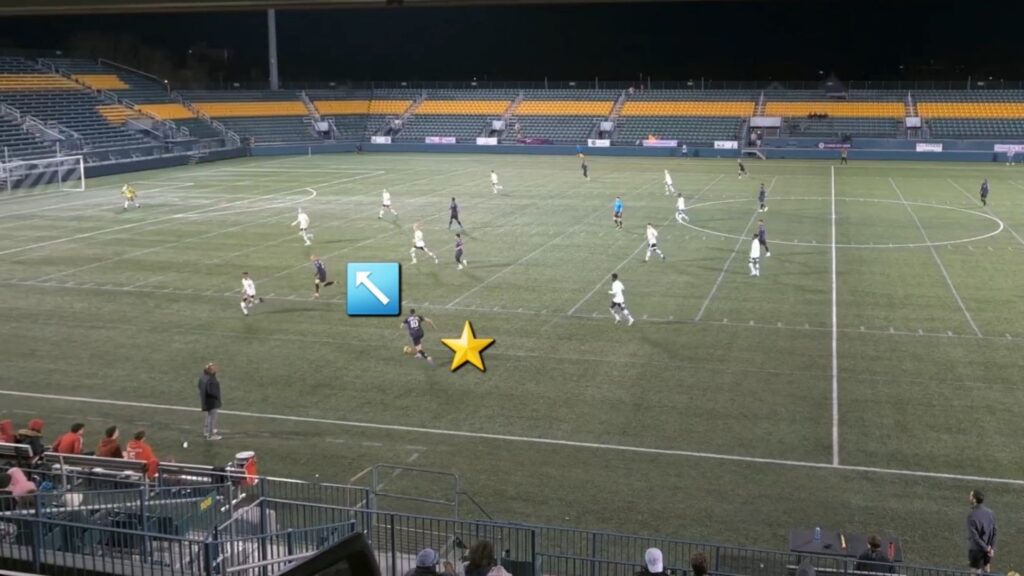 Attack
Match 1: As an experienced goal scorer at this level, it was no surprise to see Alioune Diakhate was the one tasked with leading the attack. While touches were at a premium for him, his danger was apparent. As a known threat in NISA, the Maryland defense appeared to be focused on keeping him away from the danger area. His sharp movements made this a difficult task, but unfortunately for FCU fans, the Bobcats defense was largely successful with that assignment.
Match 2: Diakhate again took up the lone striker position to start the Open Cup match. He showed a willingness to check into space to help move the ball, but rarely spent time in possession when in the midfield as it is becoming clear that he prefers to take up positions in the box and use his quickness to get on the end of passes coming in from the wings. His breakthrough goal, though, came as he took down a long ball in a crowd and dribbled around three defenders until he found just enough space to pull the trigger.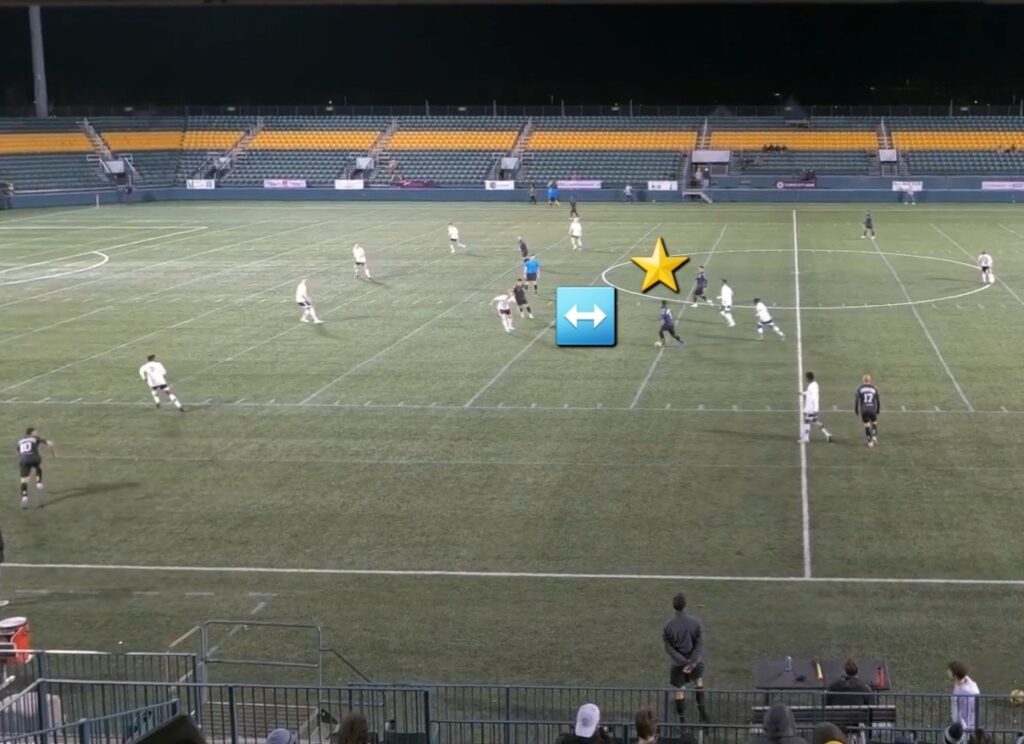 Other players we met in these first two matches were substitutes Malik Stewart, Angelo Calfo, and Logan Lee. More thorough introductions for these three are surely to come.
With plenty of soccer to play this season, we wait to see if Coach Sullivan persists with this 4-1-4-1 formation (or was it a 4-2-3-1, perhaps even a 4-3-3?) and rolls out these same players, or will we see something different and perhaps make a few more acquaintances? Whoever takes the pitch, for the sake of Rochester's FCU fans, may they continue to bring hope.